Cocoon hammocks are a great way to relax and catch some shut-eye, whether in the wilderness, in your backyard, or inside your house.
When you think of a hammock, your mind might go to a simple piece of cloth strung between two trees–and you with a pina colada in your hand. But hammocks have significantly evolved in the past few decades.
There are heavy-duty cocoon hammocks that can withstand the most brutal of elements and ensure that you'll be well-rested on any of your excursions. They can also be more of a decorative statement and a perfect place to find your zen.
Cocoon hammocks run the gamut, so we're going to break down what cocoon hammocks are, why you need them, and the best cocoon hammocks to invest in.
---
Best Cocoon Hammocks In 2023
---
Best Luxury Cocoon Hammocks for Home or Travel
Snugpack Cocoon Hammock
The Snugpack Cocoon Hammock is the ideal cocoon hammock for hardcore campers. Its thick fabric will snugly encase you, shield you from the elements, and keep vital heat inside the bag. You can adjust how snug you want to be with its full-length zipper, so this can also be used as a casual hangout hammock wide open.
The patented TravelSoft filling will provide padding and temperature control inside the hammock, keeping you in a good state. In addition to avoiding freezing, you can have a luxurious, comfortable sleep nestled against the soft filling of the hammock.
On the outside, the micro diamond and paratext treatments work overtime to keep moisture out of the bag, repelling water and wicking away sweat. All you have to do is sleep tight.
At only four pounds, the Sungpack is extraordinarily lightweight and rolls up nicely into a provided stuff sack. It won't be a burden on your camping trip but will provide a maximum upside, ensuring you have magical nights under the stars.
---
ENO DoubleNest Hammock
If you are looking for a cocoon hammock that is a little more intimate, give the ENO DoubleNest Hammock a try. It's big enough for two people. In addition to enjoying extra quality time with a special someone, having two people in there means excess body heat to keep you warm. (not like that!)
The ENO is constructed out of breathable FreeWave fabric, which keeps the water away. Before shipping to consumers, ENO puts its hammocks through a crinkling process that breaks in the material for you, leaving it soft and extra comfy right out of the bag. And with a 9.5-foot length, you will have plenty of room to stretch out.
With its tripled-stitched seams and specially designed carabiners that come with the hammock, it can hold up to 400 pounds without breaking a sweat or breaking at all. You will be in sturdy, durable hands, and you can focus on nature and the person cuddling beside you.
---
ENO SkyLite Hammock
The ENO SkyLite Hammock is the perfect cocoon hammock for stargazing. It's a fully enclosed hammock where the top half is see-through, allowing you to relax and look up at the stars. Other campers have utilized the skylight functionality to check on their surroundings when they hear a bump in the night.
Drift off to sleep in its lightweight and breathable proprietary NewWave nylon fabric, an ideal blend of comfort and durability. With its seven-foot length, the ENO SkyLite will have plenty of room if you're taller. And thanks to its extra length, it will allow you to lay flat to optimize your sleep.
Thanks to the custom mesh net that keeps out insects and critters, you can enjoy the scenic view from your bag without the worry of getting eaten up.
What we love about the ENO SkyLite is that even though it's a cocoon hammock, it feels like being in your own weightless tent. It's built with a tent-style flap door that can be unzipped and removed to get a better view. Inside the cocoon hammock are several pockets for storage, so you won't have to try and get out in the middle of the night.
The ENO SkyLite will help you connect with nature and truly get the most out of your trip. You can sleep well knowing that owning a SkyLite helps the environment; for every hammock sold, ENO plants two trees through Trees for the Future.
---
Kammok Roo Double Recycled Hammock
For a luxurious camping trip with your significant other, look into the Kammok Roo Double Recycled Hammock for extra outdoorsy canoodling.
The Kammok Roo is one of the most eco-conscious camping companies around. Their products are made from 100% recycled material, and they use reduced amounts of nylon while still maintaining the same level of support and comfort.
The hammock is incredibly strong, holding up to 500 pounds, which is more than most other double hammocks. Ten feet long will give you lots of room for you and your plus one to stretch out. In case you want to be close, but not that close.
Its crinkle treatment breaks in the fabric in advance, making it soft and comfy right out of the box.
---
Best Cocoon Hammock on a Budget
Alpine Mountain Gear Complete Hammock System
Camping can be incredibly fun and expensive if you don't check yourself before you wreck yourself. To that end, we've found the Alpine Mountain Gear Complete Hammock System to be a durable product that won't break the bank. It retails for under fifty dollars, a fraction of what other cocoon hammocks are priced at.
It has an easy setup that is perfect for one person. If you're on a solitary hike, the Alpine is a great choice. Its non-slip straps and rock-solid carabiners can be attached to any tree and stay in place. The reinforced stitching on the interior will keep you warm and dry throughout the night.
And in the morning, you can put it away in a snap with its stuff sack, condensing it down to a one-pound square under six inches in length that will barely take up room in your backpack.
---
Best Sturdy Cocoon Hammock for Camping
ENO Sub6 Hammock
The ENO Sub6 is one of the lightest weight cocoon hammocks on the market, coming in at under six ounces. That's less than an iPhone, and it's perfect for carrying around on longer trips. Despite the featherweight, it's remarkably sturdy.
The fabric is, in a word, challenging. It's thinner than other hammock materials, but don't be surprised if you can't find a scratch on it after a camping trip. With its breathable and quick-drying nylon material, it'll handle any weather, climate, or terrain. With its 300-pound weight limit, it won't let you down.
---
Best Value Cocoon Hammock for Home or Travel
Eagles Nest Outfitters SingleNest Hammock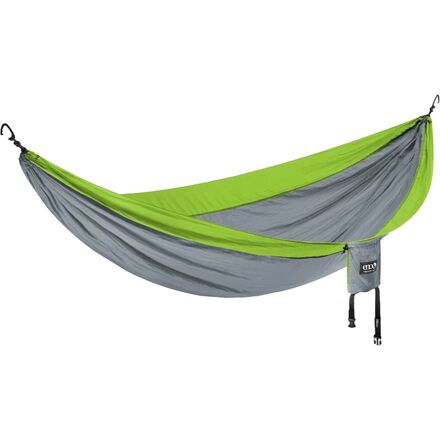 This light and compact hammock give you the most bang for your buck. It's very comfortable and easy to set up, and it doesn't complicate things with confusing instructions. Just hang, and you're good to go.
The intuitive nature of the Eagles Nest makes it ideal for beginners who don't want something too advanced. It's breezy fabric keeps you cool and is best for camping trips in balmier temperatures.
This is not a hammock meant for intense camping trips, so plan accordingly.
If you want to shake things up, Eagles Nest sells this hammock in lots of different patterns and varieties, including a Grateful Dead-inspired print!
---
Best Indoor Cocoon Hammocks
Esuplini Brazilian Double Hammock
The Esuplini is your traditional hammock with thick rope ends that can be tied between two trees. It comes in colorful prints and varieties and is perfect for chilling in your backyard or living room.
It's lightweight yet durable. The 350gsm poly-cotton fabric has forty-eight ropes on both ends to keep it secure for your safety, with an extra enhanced swing rope. It can be used by any member of the family, holding up to 500 pounds. All you need to do is lay back and find your happy place.
---
Why Would You Want A Cocoon Hammock?
Cocoon hammocks can be essential gear when you're camping. You may be hiking in a place where you don't have the room to pitch a tent, or it may not be allowed. Or you might be on a hiking trip where you need to pack light, and hauling around a tent, sleeping bag, and camping cot is not viable.
If you rest in a sleeping bag on the ground, you're open to the harsh cold, precipitation, and visitors from the animal kingdom. It could ruin your expedition or worse.
A cocoon hammock looks like a piece of edamame strung between two trees, with you as the beans inside. It fully encases the sleeper and shields them from temperature, rain, and snow swings, and it can help immensely retain vital heat for campers in a cold climate.
It's not uncommon for campers and hikers to freeze to death because of insufficient sleeping gear. The temperature in mountainous areas can drop sharply overnight, leaving you ill-prepared.
For those more on the glamping side of things, cocoon hammocks can be a wonderful addition to your backyard or house. It can give you a quiet place to sleep, think, or meditate. It can be a fun relaxation corner to let you take a moment and breathe. With modern life moving a mile a minute, having a space where we can take time for ourselves will benefit our mental health.
---
Benefits of Cocoon Hammock
Easy Setup
Unlike a tent that needs to be erected, cocoon hammocks can be set up relatively quickly. All you need are two trees, and then you tie them to each end. No special instructions are required. There's a reason why the hammock was popular with our hunter-gatherer ancestors, and they could set it up without much interruption to the hunt and take it down quickly before predators found them.
For those using them at home, you can roll them out in moments when the weather's nice. Or if you're doing some feng shui in your home, you can move it around without much effort.
Compact
Cocoon hammocks can roll up into small cylinders that can be tucked away in backpacks. They don't take up much room in your bag. If you want to pack light, you will have more room for other camping gear. The last thing you want is to be dragged down on a hike by your bulky, heavy backpack. And when you're back home, cocoon hammocks won't take up much storage.
You'll sleep well
Cocoon hammocks are known for providing surprisingly good sleep. Again, if hammocks weren't comfortable, our ancestors would've abandoned them long ago. The feeling of suspension and easy rocking manages to relax your body and lull it into a calming sleep.
Variety
Variety is the spice of life. While going the tent and sleeping bag route is most common for campers, why not spice things up with a cocoon hammock? It can be a fun new experience to try, and you might love it. If you have yet to get a good sleep in a sleeping bag and camping cot, then it may be worth giving a cocoon hammock a try.
Similarly, installing a hammock is one way to do that if you want to shake things up in your house.
---
Whether you're planning a grueling camping trip in the elements or looking for a spot for R&R, cocoon hammocks are a great selection. The Snugpack is the best cocoon hammock, providing you security and warmth for the outdoors. To learn more about hammock camping, check out everything hammock related here.