With our world becoming more digitally connected than ever before, going off the grid for a camping trip is sounding more and more like the perfect getaway. It's the ideal chance to put the phone away, get in touch with nature, and spend time with loved ones.
Forty-eight million households in the U.S. take an annual camping trip. Whether we're venturing into the woods, hiking up a mountain, or enjoying an ocean breeze, people are taking advantage of what nature has to offer.
If you're thinking of camping overnight, having the right sleeping bag is a must. There have been lots of updates to sleeping bags since the days of slumber parties. Having the best sleeping bags for camping will ensure that you have a safe, successful experience in the woods. You'll be able to enjoy your time in nature, not counting down the days until you can return to the land of Wi-Fi. Read on to learn about the best sleeping bags for camping!
---
The Best Sleeping Bags For Camping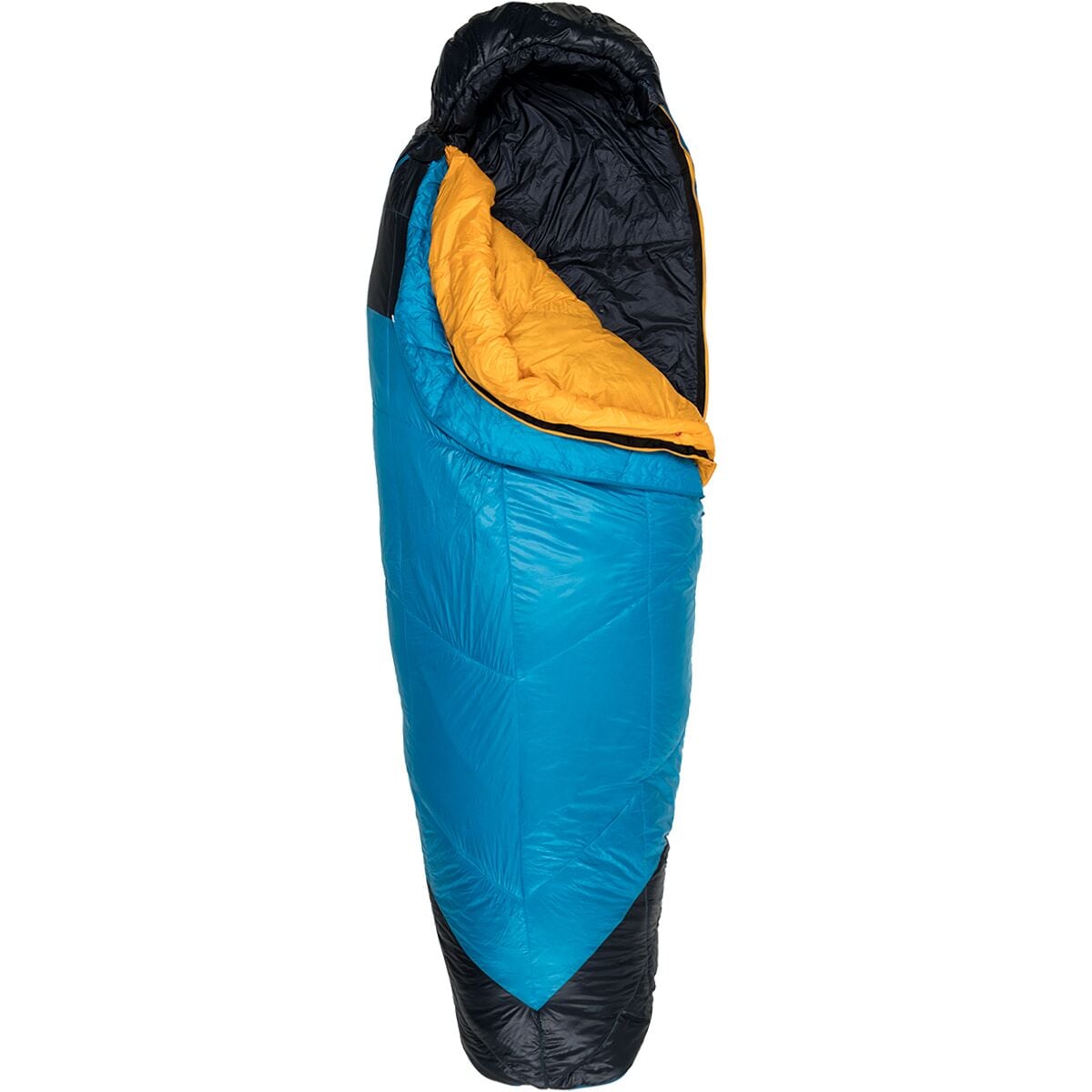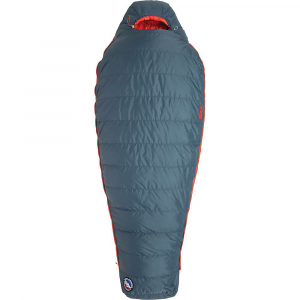 ---
Best Overall Sleeping Bag for Camping
The North Face One Bag Sleeping Bag
There's a reason those three semicircles are so omnipresent in the outdoors world: when it comes to gear and wardrobe for braving Mother Nature, The North Face is the gold standard. You can never go wrong investing in The North Face gear, which extends to their phenomenal One Bag Sleeping Bag.
It's named the One Bag because it's the one and only bag you'll need for camping. It's designed with a 3-in-1 sleeping system: three different waterproof liners that can be swapped depending on the temperature. That gives you coverage for temperatures ranging from five to forty degrees Fahrenheit.
It allows you to pivot depending on what the elements throw your way. Planning for forty-degree weather, but then an unexpected cold spell hits you? You're prepared. Planning for frigid temperatures that never come? You're prepared.
The blue layer is the outermost layer, lightweight and comfortable for warmer nights; the yellow middle layer is stuffed with goose down to provide an extra layer of warmth. You can combine both to survive those five-degree nights. The yellow layer can roll up into an extra pillow and convert to a shawl to hoist over your shoulders.
The North Face One Bag will give you the versatility to roll with whatever Mother Nature has in store.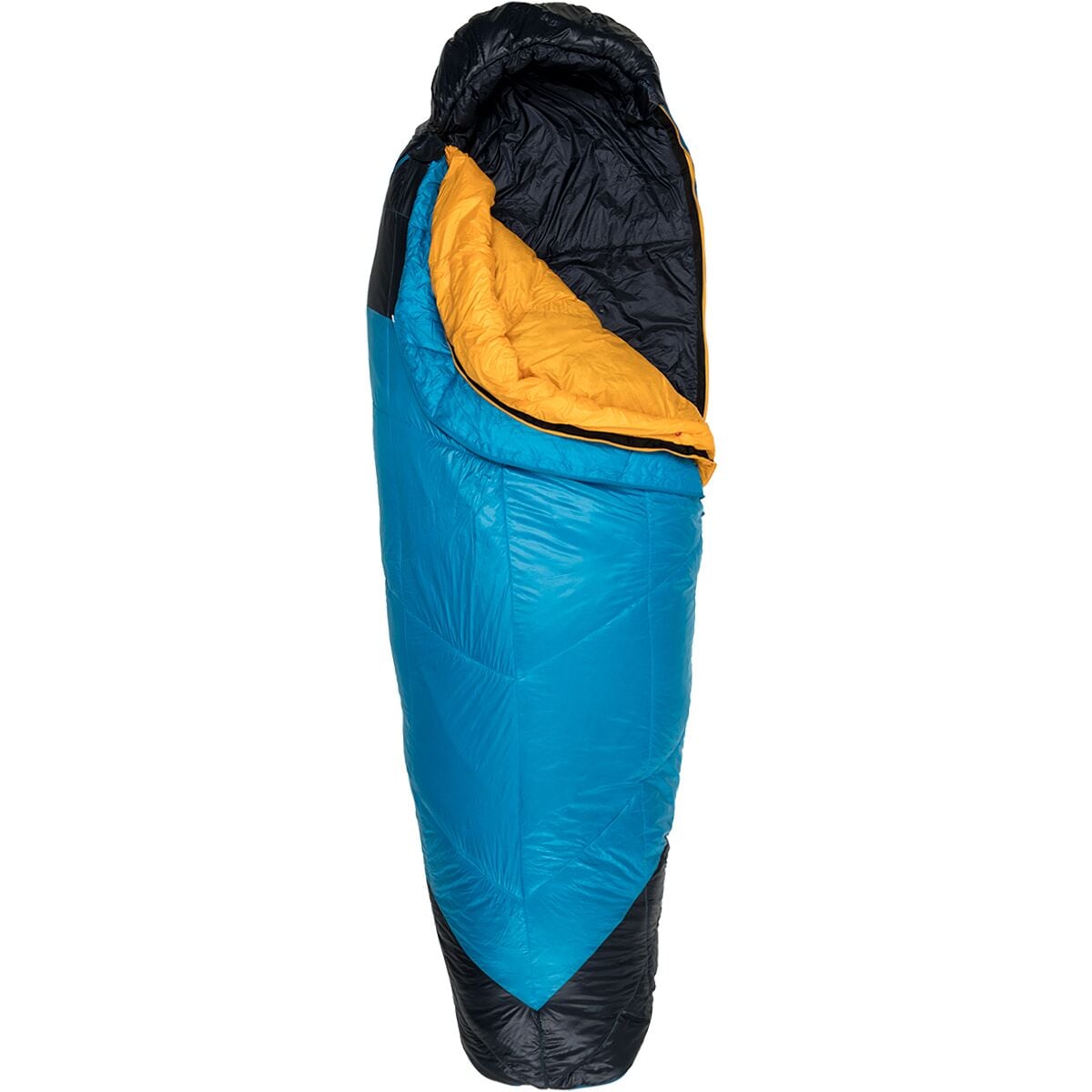 The North Face The One Sleeping Bag
as of November 22, 2022 6:32 pm
---
Best Summer Sleeping Bag for camping
Kelty Catena 30 Sleeping Bag
Of course, the Kelty Catena 30 is on our list. It checks all of our boxes for the best sleeping bag for camping. It is practical and affordable, giving you immense value and practicality for whatever excursion you have planned.
With other sleeping bags we evaluated, we found the bags either too advanced for beginners or their functionality too basic to grow into more complex expeditions. The Kelty Catena sleeping bag for camping can meet all of your camping needs, from basic overnight trips to multi-day missions. It's a sleeping bag you can grow into.
With its Cozy CloudLoft hypoallergenic insulation, you will have just enough warmth to survive the cool temperatures without getting overheated. You can concentrate on getting a good night's sleep.
Its outer shell is made from a polyester taffeta material specially designed to give you robust protection against the elements. If it snows or rains, you don't have to worry about leaks seeping into your bag. And the material is specially designed to be lightweight, so it won't take extra effort to lug it around to different campsites. The bag weighs in at just under four pounds.
Inside, you will think that you've died and gone to bedding heaven with the 300-thread-count liner that will envelop you and rock you to a gentle sleep.
---
Best Mummy Sleeping Bag for camping
Sea to Summit Spark Ultralight 18F Sleeping Bag
If you need full coverage while sleeping outdoors on a camping trip, check out this mummy bag. The Sea to Summit Spark Ultralight 18F Sleeping Bag for camping outdoors is the best solution for those late spring and early fall expeditions.
While the down insulation will provide substantial warmth, the bag has a full-length zipper and two sliders to offer easy ventilation. The design allows for better air circulation, which is crucial since the weather is at its most unpredictable during these times of the year.
The Sea to Summit Spark lives up to its ultra-weight moniker. It comes in at a whipping 1 lb. 10 oz. Less than two pounds for a bag that will give you plenty of warmth and comfort. The design of the torso area and the legs enables the bag to maintain insulation without needing to pack on weight.
Best of all, it comes with a special compression sack into which you can stuff the sleeping bag, smooshing it down to a manageable 6×14-inch size.
With its lightweight and volume, the Sea to Summit Spark will be extremely easy to carry around. It will barely take up room, and you don't want to carry so much extra weight if the weather gets warm.
Sea to Summit Spark Ultralight 5F Sleeping Bag
as of November 22, 2022 6:32 pm
---
Best Double Bag Sleeping bag for camping
The North Face Eco Trail Bed Double 20 Sleeping Bag
If you want to snuggle up to a loved one on those cold nights, then you want to make sure you both have room and are still warm. Two people sharing a single sleeping bag may sound romantic, but it's mostly uncomfortable.
Trust us when we say double sleeping bags are the way for those looking to snuggle. The North Face Eco Trail Bed Double 20 Sleeping Bag for camping is the ideal choice, as it provides each person ample space while also delivering the same comfort and protection that single bags can provide.
The North Face Eco Trail is made from 100% recycled fabric, a three-season sleeping bag, limiting your carbon footprint in the great outdoors. The polyester synthetic insulation will give you a soft feel that approximates down insulation remarkably well. The zippers provide good ventilation since the bag's temperature can fluctuate between two people.
There's a wide zipper at the collar that allows you to sit up comfortably. The width goes to 120 inches, providing plenty of room in case you need extra space.
You will be super cozy and sleep like a baby in this sleeping bag. And while it may be a double, it comes in under eight pounds, making for easy cargo. It comes with a stuff sack that makes it much more portable.
Enjoy nights under the starry sky with your significant other.
The North Face Eco Trail Bed Double 20 Sleeping Bag
as of November 22, 2022 6:32 pm
---
Best Kids Sleeping Bag for camping
REI Co-op Kindercone 25 Sleeping Bag
If you're bringing your kiddos along for the journey, you want to ensure they have extra protection against the cold, as their bodies are more sensitive to temperature swings. The REI Co-op Kindercone 25 Kid's Sleeping Bag for camping trips will keep the little ones nice and warm.
The last thing you want is a squeaky voice poking you awake, complaining of being cold or uncomfortable.
The REI Co-op Kindercone 25 is engineered to give your pint-sized campers room to squiggle around while also maximizing the insulation, so they don't freeze. And technically, it's not just for kids, and it's built for anyone under 5'6″ to use.
The recycled polyester outer shell has a durable water repellent coating to prevent moisutre, and the synthetic insulation stays warm even if wet. Your kids will stay dry from the elements. (Whether they can keep the inside of the sleeping bag is up to them, though.)
The fit is relaxed from the shoulders through the hips and legs, so your sleeper will have room to maneuver and stay comfortable. At the top are drawcords that can be adjusted to secure their neck and heads from the cold, and you will have complete control over how snug they can be. Additionally, the feet area is built with extra protection to ensure foot warmth.
The bag is a three-season, ideally meant for the twenty five to thirty five degree range. It comes in a very light 3 pounds, 2 ounces. Your kids will get a good night's sleep and be ready to take on more camping.
REI Co-op Kindercone 25 Sleeping Bag
as of November 22, 2022 6:32 pm
---
Best budget sleeping bag for Camping
Coleman Brazos 30 Sleeping Bag
Camping can easily be an expensive hobby. Amidst all the gear needed, the escape from modern living can have real-world repercussions on your bank account. If you want to be cost-conscious, we have a great bag for you. It gives you much of the comfort and features of more high-priced sleeping bags, but at a much more economic price point.
The Coleman Brazor 30 Sleeping Bag for camping comes under fifty dollars, a steal for a bag at this level. It's great for cool summer seasons as it's most comfortable at the thirty-degree point.
The sleeping bag has a tricot lining and a Coletherm insulation system that gives you enough warmth for mild nights but won't smother you in stuffy heat. Its seventy-five-inch length is one of the more extended models we've seen, making it an excellent choice for taller campers.
Its polyester cover is tightly sealed to prevent the insulation from shifting around while you sleep, enabling consistent insulation throughout the night.
It's incredibly durable and has been tested against rain, snow, and wind scenarios with successful results. You'll have a good night's sleep without breaking the bank so you can enjoy your trip with a clear head.
---
Best Sleeping Bag for Camping for Plus-Sized People
Big Agnes Torchlight 20 Sleeping Bag
If you need a little extra room in your sleeping bag, check out the Big Agnes Torchlight line of sleeping bags for men and women. They are designed specifically to provide extra room than a standard sleeping bag but without sacrificing comfort and warmth. They have an expandable panel that adds ten inches to the sleeping bag width.
You are still getting a top-quality sleeping bag that comes with their proprietary DownTek water-repellent down insulation, which will keep you dry on those unpredictable nights. DownTek absorbs 30% less water and dries 60% faster than other down varieties.
The dual zippers on both sides of the bag will enable you to adjust the size of the bag easily. You can also patch together other sleeping bags by connecting zippers.
The Big Agnes will help you sleep like a baby by ensuring that you are fully comfortable.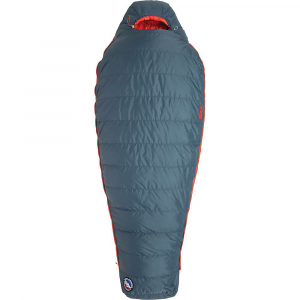 Big Agnes Torchlight 20 Sleeping Bag
as of November 22, 2022 6:32 pm
---
Why you need a good sleeping bag
Bringing a comfortable sleeping bag will enable you to get a good night's sleep. Camping and hiking are strenuous activities. You want to be sure you are physically alert, and getting good sleep is the ideal way to keep your mind sharp. Sleeping on the ground can mess up your back if you don't have proper support, and you don't want to be camping with a bad back.
Additionally, a suitable sleeping bag will safeguard you from the elements, and it can keep you warm at night and protect you from leaky tents. If you sleep cold and wet, you could increase your chances of getting sick. Conversely, if you're camping in a warm location, you'll want to invest in a sleeping bag that can keep you cool.
What to look for in a sleeping bag
There are a few criteria to reference when deciding which sleeping bag is best for your trip.
Weather
The weather is very important to your camping excursion. The climate can impact what kind of sleeping bag you'll need. If you're camping in the mountains or desert, it's going to get cold at night. Even if it's warm during the day, the temperature will drop. You want to have a sleeping bag that'll keep you warm. For camping in humid climates, having a breathable bag can keep you cool.
Depending on whether you prefer to camp in the summer, fall, or spring, you'll have different sleeping bag needs. Or winter, if you're feeling adventurous.
There are three bag types according to the season: summer, 3-season, and winter. Summer sleeping bags are ideal for temperatures above thirty degrees, and 3-season sleeping bags can handle summer, spring, and fall weather swings. They are ideal for temperatures between fifteen and thirty degrees, and winter sleeping bags are cut out for sleeping in temperatures below fifteen degrees.
You'll want to select a bag that works for the lowest possible temperature you'll face on your trip. If the weather turns out to be warmer, you can always unzip your bag. It's better to be a little warm than risk being out in the cold with inadequate protection.
Bag Shape
Sleeping bags come in a variety of shapes to fit our bodies. The four main shapes that manufacturers put out are rectangular, semi-rectangular, mummy, and double bag.
Rectangular sleeping bags are the most popular shape sold as they have extra room. They're perfect for people who like to stretch their arms and legs when they sleep. They can easily be unzipped and used as a comforter, too.
Semi-rectangular sleeping bags are a more fitted shape with rounded edges that can better hug your body. They're also known as barrel-shaped and are a good halfway between rectangular and mummy. They provide more snugness than the rectangular ones but also allow for some room in the bag.
Mummy is exactly as it sounds. There is very little moving room in a mummy sleeping bag. You roll over with the bag, not inside it. The mummy sleeping bag is shaped to fit your body. It's meant to be snug to help you stay as warm as possible at night.
Double Bags are meant for two people to share. If you go with this one, ensure you like the person you'll be sharing with because it could be a long night!
Insulation Type
You can go with synthetic or down insulation in your sleeping bag.
Synthetic insulation is non-allergenic, making it ideal for you or those in your party with sensitivities. It's better for wetter camps; the material dries faster and will continue insulating while damp.
Down insulation is better suited to colder, dryer climates, and it can better insulate against the cold. And it will likely last longer. The down is more durable, able to keep its shape and warmth for many years.
And now for the best sleeping bags for camping.
Wrapping Up the Best Sleeping Bags for Camping
Camping is an incredibly fun activity, but your ability to enjoy your expeditions is directly related to how much good sleep you can get. If you're tired, it will limit what you can accomplish during the day. With its three-layered design, the North Face One Bag Sleeping Bag is the best option to keep you covered no matter what the elements throw at you.
Check out our guide to the best free camping spots to find your next camping trip.