A tent heater is a blessing for winter camping.
Although a 4-season tent and cold-weather sleeping bag are most important, a camping heater provides an extra oomph of warmth on very cold nights.
Today, we're going to break down the best tent-safe heaters for winter camping to help you select the best model for you.
Looking for a portable heater for your RV? Our guide to RV heaters breaks down the options in detail.
Best Tent Heaters for 2021
Here is an in-depth look at our 5 favorite tent heaters for 2021 based on performance, safety features, and ease of use.
$67.49
in stock
5 new from $67.46
as of July 4, 2022 10:12 pm
$69.00
in stock
8 new from $69.00
as of July 4, 2022 10:12 pm
$99.98
in stock
as of July 4, 2022 10:12 pm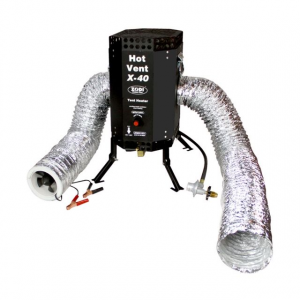 $51.88
$59.99
out of stock
5 new from $51.88
as of July 4, 2022 10:12 pm
1. Mr. Heater Portable Buddy
The Mr. Heater Portable Buddy is our favorite tent heater in 2021.
Not only do we recommend it above all others this year, but it's came out on top as the best tent heater each year since we started our rankings.
What makes the Portable Buddy so good?
Not only is Mr. Heater a reputable brand with a long history of creating amazing products, but this model has a particularly impressive track record.
The Portable Buddy boasts a classic time-tested design that's all but indestructible. Although I also have newer models, I do have a Portable Buddy from nearly 15 years ago that still works flawlessly.
In addition, the Portable Buddy uses propane to radiant between 4,000 and 9,000 BTUs per hour, weighs just over 10 pounds, and has a built-in oxygen depletion sensor as well as an automatic tip-over shutoff switch.
You can use it with a standard 1 pound propane cylinder or buy a hose to attach it to a much larger propane canister (5 pounds, 20 pounds).
2. Mr. Heater Little Buddy
The Mr. Heater Little Buddy is our runner-up for the best tent heater in 2021.
Not only that, but it's our top choice for those looking for an affordable portable propane heater on a budget.
I also love the Little Buddy because it's so lightweight. In fact, its size makes it an even better use for inside small tents than the Portable Buddy.
It doesn't boast quite as much heat output as its big brother – but 3,800 BTUs is more than enough to provide some warmth on a cold night.
Like other Mr. Heater products, the Little Buddy comes with a wide range of safety features like an oxygen depletion sensor and automatic tip-over safety switch.
The only thing I don't like about this tent heater is its base. Basically, a small base fits onto the bottom of the propane canister and the heater itself screws onto the top.
Not only does this make the heater slightly wobbly (which is dangerous in an enclosed space), but it also means that you can only use a 1 pound propane cylinder. It's not compatible with a larger propane tank.
That said, I highly recommend the Mr. Heater Little Buddy to campers in milder climates (the Portable Buddy is still best for extreme cold).
3. Texsport Portable Outdoor Propane Heater
The Texsport Portable Outdoor Propane Heater is one of the best outdoor propane heaters on the market.
Remember this camp heater is for outdoor use only – it's not rated for safe use inside of your tent.
Still, it's a good option for staying warm around the campsite.
In fact, it works almost as well for cold weather camping as the Mr. Heater Portable Buddy Heater, our number one choice overall. It's also an extremely affordable option.
The Texsport model is notable for its simple, straightforward design. It's super functional with a stable base that attaches to the bottom of a propane canister. The heating element then attaches to the top.
This outdoor heater has a 3000 BTU output. You can direct the heat with the aluminum reflector plate.
4. Stanley Heavy-Duty Electric Heater
This Stanley Electric Heater (model # ST-222A-120) is perfect for those that prefer a portable electric heater for camping.
Of course, because of its electric design, it's important to only choose this tent heater if you typically camp near a power outlet or have a portable power generator.
Despite this drawback, this electric tent heater is a great choice because it's so safe to use. While you still have to worry about the risk of nearby items catching on fire, you don't have to worry about carbon monoxide build up.
As far as performance goes, this Stanley tent heater produces a solid 5,100 BTUs of heat. Stanley claims the heater is perfect for heating indoor spaces up to 165 square feet.
We also love that this tent heater is so compact. It's just 8.5 x 5 x 10 inches and weighs just 3.8 pounds. The small footprint means you can use it in small tents without taking up much space.
5. Campy Gear 2-in-1 Propane Heater and Stove
The Campy Gear 2-in-1 Propane Heater and Stove is our final recommendation for 2021.
It's a unique twist on the traditional portable heater which also adds in a cooking platform as well.
For this reason, this Campy Gear heater is the perfect choice for survivalists and preppers. It's an excellent emergency heater that's a fantastic cooking stove as well.
It runs off propane and boasts 9,000 BTUs of heat. It features a compact design which makes it easy to take on camping trips and use inside your tent.
In addition to its great performance and solid durability, we love that this heater actually looks cute. If stylish camping gear is important to you, then this tent heater just can't be beat.
Why You Need a Tent Heater in the First Place!
Here are the top benefits of bringing a tent heater when camping in the winter.
Stay Warm – Sure, it's obvious, but a tent heater provides a lot of extra warmth when camping on cold nights.
Portable – Our favorite tent heaters are lightweight and compact which makes them portable for camping.
Safe to Use – Built-in safety features like wire guards, overheating protection, tip-over switches, and oxygen depletion sensors make the best tent heaters safe for camping.
Fuel Efficient – Propane tent heaters, in particular, are surprisingly fuel efficient and will keep you warm all night long with minimal fuel.
Although camping heaters have a lot of benefits, their bulky size makes them a poor choice for winter backpacking. Stick to car camping if you're bringing a tent heater.
Tent Heater Buying Guide
Here are a few factors to keep in mind when reviewing our top picks to make sure you buy the best tent heater for you.
Fuel Type – Your two options are gas and electric. We prefer propane because of its high heat output and efficiency. Electric heaters require an outlet or a portable power station to use.
Heat Output – BTUs (British thermal units) are used to measure heat output for propane camping heaters. Look for a model that produces between 3,000 and 10,000 BTUs of heat.
Portability – My favorite camp heater (the Mr Heater Portable Buddy) is highly portable and fits most tents. Other models are a lot larger and really aren't as well suited to camping.
Durability – Camping gear suffers a lot of wear and tear, so make sure your tent heater is up to the task.
Brand – I prefer to buy most of my outdoor gear from a reputable brand, especially high-tech gear. There are a lot of great tent heater manufacturers, but Mr. Heater and Coleman are two of the very best.
We know you'll be happy with any of our top recommendations outlined above, but you can use this info to help better narrow down your choices.
How to Safely Use a Tent Heater
If you plan to use a tent heater for camping, it's absolutely essential you know how to safely use it.
Electric is Safest – The best propane heaters are incredibly safe, but an electric heater comes with fewer risks since you don't have to worry about CO2.
Always Buy Tent Safe – Make sure to buy a tent-safe model with built-in safety features if you plan to use your heater in your tent.
Proper Positioning – Keep your tent heater (electric or propane) away from the sides of your tent, sleeping bags, and other flammable objects. Place the heater on a baking pan to protect the floor and catch any condensation.
Remember to Ventilate – Ventilation is the most important safety tip for using a propane heater in a tent. Crack the window or the door to let carbon monoxide/dioxide escape your tent.
Turn Off at Night – A lot of campers run propane heaters overnight, but I personally only use mine just before bed and when I wake up in the morning. My sleeping bag is warm enough to keep me toasty through the night!
If you go with a propane tent heater (which we recommend), make sure to buy a model with built-in safety features like an automatic tip-over shut-off switch and oxygen depletion sensors.
Tent Heater Alternatives
A tent heater is just one way to keep your tent warm while camping in the winter. Here are a few others.
Candle Lantern – Surprisingly, candle lanterns can generate between 5 and 10 degrees of extra warmth for your tent.
Wood Stove – Camping in a canvas tent with a wood stove is one of my favorite ways to winter camp. Not only does a wood stove give off a ton of heat, but it can also be used as a makeshift camp kitchen.
Chemical Heat Packs – Hand warmers won't heat up your tent, but they do provide a little extra warmth against your body on very cold nights.
In our opinion, the best way to stay warm while camping in the winter is a great sleeping bag, quality winter tent, and a portable tent heater.
Check out our ultimate guide to winter camping and our tips for staying warm in a tent for even more great cold weather camping advice!
Final Thoughts
Winter camping without a tent heater is certainly possible. But bringing along a portable heater makes it a whole lot more enjoyable.
Personally, I always bring a Mr. Buddy Portable Heater when I expect cold weather – even if I don't end up using it.
Do you use a tent heater for winter camping? Which brand and model? Let us know in the comments below!
Pin This Post!