Few things can ruin an otherwise great camping trip like bugs.
Mosquitoes, gnats, and other tiny critters can bite, sting and plain old annoy you to the point where you just want to go home.
The Nemo Bugout Camping Screen Room not only solves the problem of bugs at basecamp but creates a shelter from the elements at the same time.
| | |
| --- | --- |
| Ease of Setup | 4 |
| Durability | 5 |
| Usefulness | 5 |
| Weight | 3 |
| Packed Size | 3 |
| Overall Value | 5 |
| Total Score | 25/30 |
Purchase the Nemo Bugout 9×9 Screen Room Tarp Here.
My Thoughts On The Nemo Bugout Screen Room
When I'm out camping I typically bring along a cheap blue tarp, something you'd purchase at Home Depot. These tarps have grommets all around the outside edges that allow you to tie up the tarps in a variety of situations.
They are easy to set up at your basecamp for protection against the sun and light rain. But, they are heavy and pack big.
So this past summer I decided it was time to upgrade my tarp and get something better. That's when I came across the Nemo Bugout tarp with a screen room. I didn't even know this product existed and let me tell you, it has changed my camping trips for the better.
The Nemo Bugout camping screen room shelter is the perfect combination of shelter and bug protection.
It provides you with a 9×9 or 12×12 screen shelter with mesh sidewalls that can be lowered to keep the bugs out of your sheltered area. If bugs aren't a problem, the mesh can be rolled up out of the way.
The tarp provides shade from the sun after a long day and a place to stay out of the rain other than being crammed in a small tent all day.
The mesh sidewalls? Genious!
Living in Minnesota, I am no stranger to mosquitoes. They can be so bad that they can literally make being outside unbearable.
You can always load yourself up with bug spray. But personally, I cannot stand sliding into my sleeping bag at night covered in bug spray. It feels sticky and smells terrible. I avoid bug spray if at all possible.
Long sleeves & pants are other options. These can be great, just like bug spray, if you're out hiking or on the move. But if you're at basecamp and want to relax, they may be too warm or not provide the protection you're looking for.
Then there are other newer inventions like the Thermacell. Personally, I love using a Thermacell and bring it on almost all of my camping trips. But, although the Thermacell does do a good job, it's not perfect, bugs will still get you (though not as bad).
When I'm out camping, I want an area that I can relax without the constant annoyance of mosquitoes and other bugs.
This is why a basecamp solution that provides shelter and bug protection is perfect.
---
Pros and Cons of the Nemo Bugout Shelter
Pros: Extremely Useful, Shelter From Rain & Sun
Cons: Heavy and Packs Large
---
Ease of Setup
Setting up the Bugout tarp isn't complicated, I've found that the most important step is properly planning out how your tarp and net will go up and figuring out the best layout before you begin to set it up.
Set up for me typically takes about 10 minutes.
I start by trying to visualize the best location for my tarp at the campsite. I look for four tie off points, ideally all within 10 feet of the corners where the tarp will go. If I can't find four tie off points, then two sides can be held up with poles. I like using poles along with tie off points, I've found this to be the sturdiest set up.
I also look for flat ground, a spot to set up a stove and chairs, and maybe even an area covering a log that I can sit on.
Next, I lay the tarp on the ground and tie off my four corners.
To create the best set up, if you can find 6′ sticks and 3-4′ sticks (or trekking poles), using a pole/stick to prop up each corner makes for a more sturdy structure, though not completely necessary.
The biggest problem for me was the first few times I set up my tarp, I had to untie it and re-adjust the positioning to get it exactly how I wanted it. After 2-3 times of setting up, this was no longer an issue.
Durability
I've actually put my Nemo Bugout camping screen room through some pretty good tests so far.
I've taken it camping all around Minnesota to the state parks and Boundary Waters. I've taken it camping with 6 of my kids (this is the biggest durability test as they abuse it!) and I've had it in windy rainstorms.
Initially, I was worried about the screen mesh. I thought that for sure my kids would eventually tear the screen and I would end up with holes around the bottom of the screen where it can drag on the ground.
But the mesh is incredibly durable. I have had zero tears so far and am not expecting to get tears any time soon.
If anything ever does go wrong with your shelter, Nemo has a Lifetime Warranty.
Usefulness
The practicality and usefulness of this tarp is where it really shines.
The Nemo Bugout has become one of my absolute favorite pieces of camping gear. As long as I have the room and can afford the weight, it's coming with me.
I bring a shelter with me whenever possible already and having the mesh screen walls is such a huge bonus.
I not only bring this tarp on my camping and backpacking trips, but our family brings it RV camping and car camping as well.
We set up the screen room over our picnic table and create a bug-free hangout area for sitting, eating and for the kids to play.
Weight
Weight is probably the biggest downfall of the Nemo Bugout camping screen room. It's not that it's overly heavy, it's that it isn't exactly light.
When I'm packing my gear, I consider a tarp to be a luxury. If I have packing room and can afford additional weight, I always will bring a tarp.
The Bugout is a slightly heavier tarp, but it offers so much more.
I consider the tradeoff to be more than worth it.
The 9×9 Bugout Screen Room weighs 4 lbs 12 oz.
The 12×12 Bugout weighs in at 7 lbs.
This may not seem like much, but when your pack is already in the 40-60 lb range, an additional 5-7 pounds is a lot.
That is also why I like having both sizes of the tarp.
When I am out canoe camping or backpacking, I like bringing the 9×9 tarp. It's lighter and is actually easier to set up when you are dispersed camping or in primitive campsites. It can be hard to find a cleared area big enough for the 12×12 tarp.
When we are RV camping or car camping, we bring along the 12 x 12 Bugout. The weight of this screen room isn't a problem when you are packing it in an RV or car. Car camping campsites and RV campsites are typically bigger and have more cleared space, this makes setting up the 12×12 tarp much easier. I can also bring along poles for the tarp and really get a sturdy setup.
Packed Size (Portability)
Packed size is the only other downfall of the Nemo Bugout screen room.
For comparison, my 9×9 screen tarp weighs about the same as a standard two-person tent, and packs about the same size as a two-person tent if not a little bit bigger.
This may not seem too bad, but I consider my tent to be one of the largest items I will pack. I'd love it if the tarped packed smaller, but I don't think there is any way of doing this. Nemo has designed the tarp wonderfully and to get this size of a tarp along with screen walls just takes space.
The 9×9 tarp is 16″ long and 8″ in diameter.
The 12×12 is 23″ long and 8.5″ in diameter.
Nemo Bugout 9×9 Bugout Camping Screen Room Specs
Nemo 9×9 Bugout Screen Room Tarp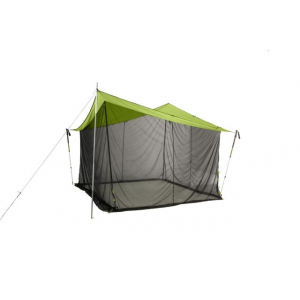 as of November 23, 2023 8:25 am
NEMO Equipment Camp & Hike Bugout Elite 9 x 9 Shelter 814041011655. These simple shelters consist of a well designed tarp with mesh walls that can either be stowed or easily dropped to offer instant no-see-um protection. String the tarp between two trees paddles or trekking poles or use NEMO...
Packed Weight: 4 lb, 12 oz
Packed Size: 16″ x 8″ diameter
Peak Height: 72 in
Floor Area: 81 sq ft
Nemo 12×12 Bugout Screen Room Tarp
as of November 23, 2023 8:25 am
This straightforward shelter consists of a well-designed tarp and mesh walls. The mesh walls stow securely away or easily drop down for coverage, offering instant no-see-um protection.
Packed Weight: 7 lbs 1 oz
Packed Size: 23″ x 8.5″ diameter
Peak Height: 84 in
Floor Area: 144 sq ft
Who Is The Nemo Bugout For?
The Nemo Bugout Screen Room Shelter is one of those pieces of camping gear that is perfect for everyone.
If you're a backpacker headed through a buggy area, then the 9×9 shelter may be perfect to set up a rain, bug, and sun-free shelter in the evenings.
For the Glamper, the 12×12 screen room would be perfect for setting up a lounging area away from your glamping tent.
If you're an RV camper, renting an RV, or car camper, then setting up the 12×12 Bugout over your picnic table and chairs makes for a perfect place to relax bug-free and out of the elements.
The Bugout is even perfect for other types of camping such as canoe camping, motorcycle camping, and more.
If you plan on spending time in the outdoors, need a shelter, and want a bug-free zone, then the Nemo Bugout camping screen room is perfect for you.
Final Thoughts
The Nemo Bugout was my favorite new piece of gear in 2019 and I am sure that anyone who purchases this screen shelter will not be disappointed.
About the Author
Latest Posts
Hey there, I'm Ryan, the face behind Beyond The Tent.
With decades of camping experiences, my journey into the wilderness began on the rustic trails of a farm in southern Minnesota, where my childhood was filled with explorations and camping by a picturesque river.
My family's adventures across the United States, from the majestic Colorado mountains to the serene national parks and the pristine Boundary Waters Canoe Area of Northern Minnesota have given me a broad perspective. With each journey, whether in state parks or private encampments, and through the homely comfort of our camping trailers, we've amassed a trove of stories, experiences, and invaluable camping wisdom.